Luonnonhelmassa.fi is brand, that gives you outdoor activities, sauna experience, excellent food and amazing surroundings to arrange any event you need. We are surrounded by lovely outdoors, forest, national park and routes. We offer guided tours, Nordic walk, biking, canoeing, hiking, skiing, snowshoeing, camping, tensile-renting, wilderness-games, Wine in the Woods-experience, forest-tours, fishing, just to mention some options.
You can also rent Pohjoinen Pirtti for meetings, parties, events etc. Ladies of the house have a catering-service, where you can order delicious lunch, buffet-table, á la carte meals or sweet and savory pastries, cakes and other delicious treats for your day.
On a weekends Pohjoinen Pirtti is café/restaurant, where you can enjoy our delicious homemade sweets and pastries and feel the atmosphere and cosy surroundings of the old traditional house.  Have a lunch, sip a cup of coffee or other beverages. You can also order cakes and pastries few days earlier and pick them up on weekends.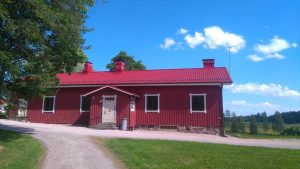 You can have a meeting, lunch, activities, sauna and dinner to create a perfect day for your company, business partners, friends, families, unions and others. In Pirtti we have one main room that seats 50-60 people and two cabinets: Peräkammari which seats 12 people and Emännän kammari which seats 16 people. Both cabinets you can have a big television to connect with your laptop. We help you to choose best combination for your needs. We like you to enjoy and spend a memorable day in Nuuksion Pohjoinen Portti. For information you can send email info@luonnonhelmassa.fi or call +358 45 7871 5399. You can also see http://www.nuuksionpohjoinenportti.fi